Your Challenges Are Met With Professional Service and Solutions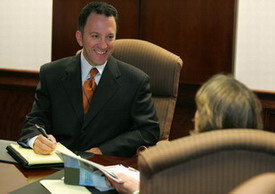 With a strong academic, technical, and business base, the PC&T Law Group was formed as a national boutique Intellectual Property Practice which has taken a global approach to intellectual property law, fully integrating it into our multidisciplinary practice. The result is comprehensive intellectual property solutions for your business. We understand that intellectual property issues touch various aspects of a business, and accordingly, our attorneys and their support staff provide a broad menu of intellectual property legal services. From identification of patentable subject matter, through application and prosecution, to enforcement and comprehensive business support for a broad assortment of clients, the PC&T Law Group has represented a very diversified collection of products and innovations.
With a staff of attorneys admitted to practice before the U.S. Patent and Trademark Office, we provide the broad strength and depth of representation needed in managing your intellectual property assets. Just about every aspect that can be included in a patent, trademark, and copyright practice has been handled, including international filings, and the successful prosecution of over 800 patent applications in chemical, pharmaceutical, mechanical, medical, electronic, and business system areas.
Click here to receive our free Inventor's Guide, and then contact us to find out what we can do for you. Attorney-Client Privilege protects you and your idea , so you have nothing to lose and perhaps a whole lot to gain!
Business & Industry Inventions